electronic press kit (epk)
Press Photos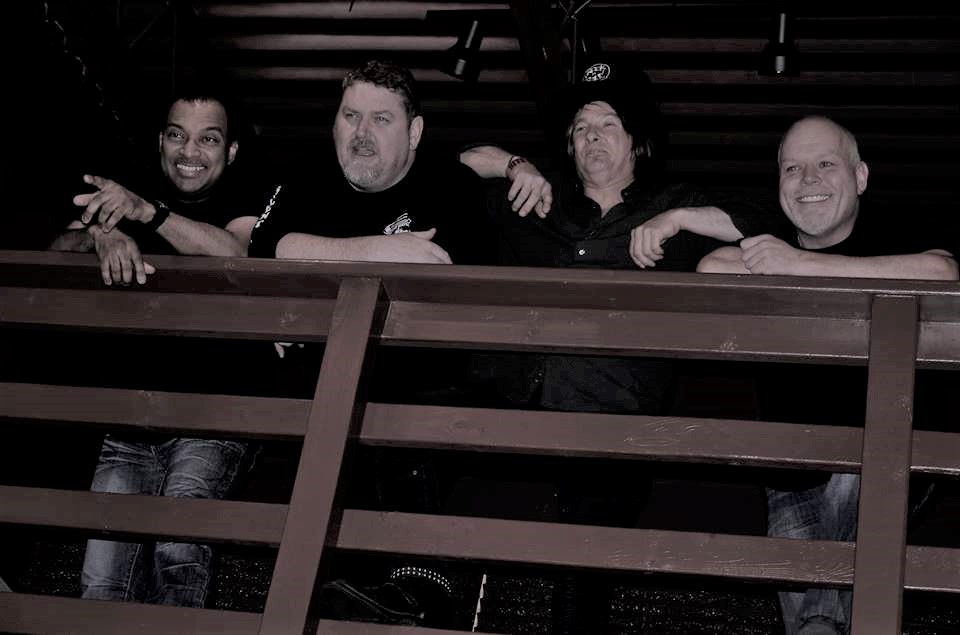 BIO
Hometown: Montgomery County, Maryland, USA
Genre: Hard Rock / Classic Metal
Years Active: 2014 - Present
Dangerous Curves is an 80s and 90s hard rock/classic metal band covering songs and creating originals in the genre. John Jamison, Chris Gamble, Linwood Turner and Randy Snowman love the distinct hard-to-play sound that came out of the era. The band released their debut CD in June of 2017 which was well received in their hometown. 
"The sense of fun showed in their performance. Jamison danced on stage with abandon, going into the crowd and riding the mike stand like a horse. Besides original songs from their album, the group tossed in covers like Skid Row's "Monkey Business," and Guns N' Roses classic "Welcome to the Jungle." 
Throughout the night, Dangerous Curves also showed off their instrumental chops. Gamble took several solos, his fingers gliding across the fretboard for fast melodic sequences and Eddie Van Halen-style two-hand tapping runs."
- Matt Hooke, Entertainment staff reporter 
THERE'S SOME "DANGEROUS CURVES" HERE, The Sentinel newspaper 6/30/2017
This is a band to watch in 2019! Their music has received tens of thousands of hits as it competes for licensing deals with a high success ratio for their short amount of time in the market. Every one of the ten original songs from their EP has already been licensed in multiple worldwide campaigns including a compilation collection representing the hard rock genre.
To see more, please go to their bio page by clicking here.
Press release
Dangerous Curves Debut Album Release Event Sure to Melt Montgomery County's Face 
Saturday, June 24th, Gaithersburg, MD 1pm until after midnight 
NEWS PROVIDED BY 
Dangerous Curves 
Jun 20, 2017, 08:40 ET 
GAITHERSBURG, Md., June 20, 2017 /PRNewswire/ -- Local music supporters and contributors, the Dangerous Curves collective is chomping at the bit to celebrate the release of their LP, Dangerous Curves, available everywhere on June 24th. Four bands start the event off outside under the big tent at Hershey's Restaurant & Bar at 1pm, paving the asphalt-melting way to the classic metal inspired bliss of Dangerous Curves at 7pm. An all-star local musician jam begins inside after the outdoor festivities. Admission is free, there are drink and food specials under the tents and inside, and a guitar raffle paves the way for local musicians and friends to keep the celebration going for decades to come. 
With classic hard rock influences like Metallica and AC/DC, Dangerous Curves honors the great musicianship and showmanship of the '80s and '90s. Dangerous Curves' original music has been featured on WUSA9 news and has won them a slot at upcoming Audioteka Fest 2017 happening 7/14-7/16/2017 in Adams Morgan where ~50 DC-area based rock bands will perform with collaboration from DC businesses. After a performance at his venue, Eric Heckman, owner of Bethesda restaurant Caddies, said, "Dangerous Curves CD, releasing in two weeks, is a must buy. If I was still doing my record label promotion thing… I'd be jumping on Music Directors' desks to get this added out of the box." 
Rarely do mainstream USA towns' musicians enjoy the kind of connection exhibited by those participating in this event's entertainment. Rhythm Bandits, Going Mobile, Shooting Star and The Crimestoppers represent over 50 years entertaining in the DC Metro area. The musicians playing are salesmen, reporters, lawyers, arborists and teachers of our community who continue to support one another in their endeavors on and off the stage and now will celebrate Dangerous Curves new album with everyone who attends to enjoy a day and night of great music, food, drink and kinship. Dangerous Curves has private and public gigs booked in the DC Metro and Baltimore areas and will be playing New Year's Eve at Gentleman Jim's Restaurant & Bar in Gaithersburg. 
Want to know more? Contact the band using this form: